How to make a custom logo like this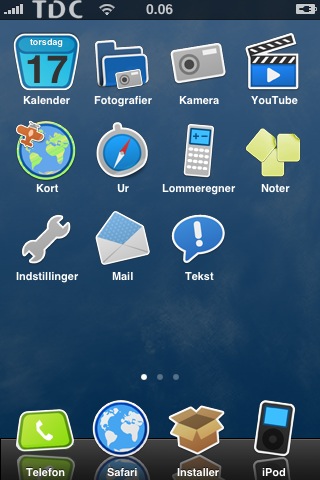 To use this guide you must have access to the filesystem. If you do not know how to do this, read this post.
Go to installer.app
Browse to Utilities and install "Make It Mine"
Access the root filesystem and browse to /System/Library/CoreServices and then ctrl+click on "SpringBoard" and select "Show Package Pontents".
Now you need your PNG's.
They must be called Default_CARRIER_IPOD.png and FSO_CARRIER_IPOD.png. The "Default" is the one shown in every application you open. The other one is the one shown at "Home".If you use a danish carrier, I have created a logopack including: Bibob, Happii, Sonofon, TDC, Telia and Telmore logos. Preview them below the howto. Download it here: dk_carrier_bundle.zip

If you want to create your own logoset, you can use these two as templates:
FSO: <– It's there, you can click it. It's transparent with white logo.
Default:
Turn your iPhone off (holding down the button at the top for 3 secs).
Turn it on again..
Open the "MIM" application you installed earlier.
Enter Carrier Name: Ipod
Click "Set"
Voila, you now have your own beautiful custom logo.
Logo Previews