This guide will tell you how to convert DivX files into something that your iPhone can understand – wonderfully!
What you will need
A Mac running OS X
Quicktime 7 Pro
If you do not already have Quicktime Pro – buy it, at a very low price you get very useful software, that does the job extraordinary.
Quicktime Pro by itself cannot playback DivX encoded files, which makes it tell you to go buy some plugin. This is not necessary! You can use Perian which is free of charge and easy to install. It makes you able to playback (and export!!) DivX and more. Get it and install it…. it can be used even if you do not have pro, however there's no exporting stuff in standard.. more on this later.
For this example I will be using the Brother Bear trailer which can be downloaded here:
http://www.dvdloc8.com/clip.php?movieid=249&clipid=2
Open your moviefile as if you were going to watch it. Then go to File > Export: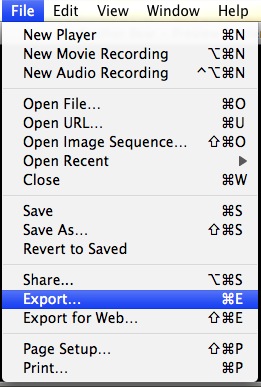 At this point you will see a box, where you can set the Exportsetting to be "Movie to iPhone"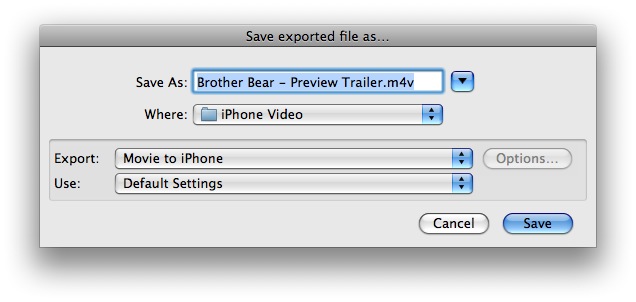 Your computer will start converting and use up a lot of your CPU time. An entire movie will take around 40 minutes to convert. Drink coffee while doing it, right? .. So, video is converted, now fire up iTunes and drag it into the "Movies" section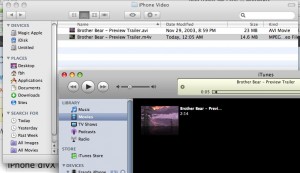 (click for fullsize)
Now sync it to your iPhone. And this will be your result (click link):
Have fun 🙂