How I found out
In my company HelpSoft we run various websites either selling products, offering free stuff and we also own a web portal where women can find new friends.
For all of these we wanted a live chat solution. Simplicity, functionality and pricing were three factors in this process. You see Zopim everywhere, so we looked at that. We did try to sign up for a beta, unfortunately they don't seem to like new customers because the required activation e-mail never arrived.
Sometimes in these cases, the forgotten password button is a help, but that failed too. No e-mail arrived. And ironically, their live chat support were not online.   I'm not a man who enjoys waiting a lot, if I want something I want it now, not tomorrow or whenever they feel like responding to a support ticket. So they were trashed and the whole idea of Zopim was out.
I visited one of my favorite web sites, alternativeTo and did a search for Zopim.  Some very irrelevant products showed up and so did cSupport.
I had fallen in love with IM integration I read about on Zopim. cSupport did that too, limited to XMPP, but I can live with that since that's my favorite IM protocol anyway. And a 14-day trial with no credit card required, I mean, what's the worst that could happen?
Getting started
It was simple, really. I clicked the "Start trial" button and inserted a name, an e-mail address and a username. I picked the "Premium" plan, it seemed to fit our needs fine.
The activation e-mail arrived! YAY! And so we were started, pretty quick.  Found the JS snippet and attached it to a site or two, just for testing.
The sign up process is flawless, it's simple and easy.
Making it work
I'm a big fan of integration, customizing and especially usability (for our users/customers). I had trouble getting the provided Javascript example code to work (not the standard one, but the one allowing me to prepopulate the form fields in the chat with info) so I contacted cSupport via the live chat on their page. I got help instantly and received a piece of JS that worked.
Later, the same night, I found a few bugs in the product. Nothing big and nothing that would harm your kids. Just enough to be annoying, and my first thought was "this is useless." – that did change quite fast though!
I contacted the chat support again and reported my bugs, they took action immediately and within hours new code were pushed that fixed the issues. What they were isn't important, since they have been fixed and dealt with.
Ideas for improvement
I have had some ideas for improvement of the system. And here's the beautiful thing: all my requests, except for one, are either planned or already implemented, the last one is under review.
Integration
There are two things to integration. One is the integration on web sites, the other thing is the IM integration used for chat agents.
Both are very easy to wrap your head around. The web integration is simple Javascript you include on our pages and that's it. If you want to customize it, you can do and the documentation describes this.
The IM integration is easy as well. Add a Jabber account to your favorite XMPP client, accept friend requests from the chat bots. And done. Ready to go!
The IM uses commands. Being a very UNIXy guy, this is what I like. This is what a IM session looks like seen from that agent's side: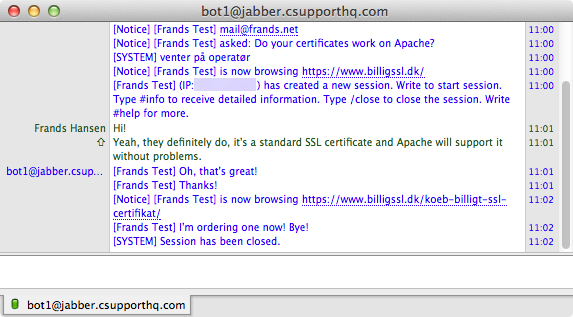 Conclusion
cSupport is a startup. But it's the kind of startup I like. We decided after a few days to pay for it and signed up for the paid Premium version. We have integrated it on 3 sites currently, and yes it does work multi-site.
I would definitely recommend cSupport to others. When you hit a bump in the road, you can get help. If you have a good idea (that makes sense) it will be considered, and in my case have several ideas implemented.
Oh, and by the way
I, my company HelpSoft is not in any way affiliated with cSupport. This blog post is not sponsored or an ad. It is merely my excitement I am sharing with the world.